Promote inclusion for children, youth and adults with autism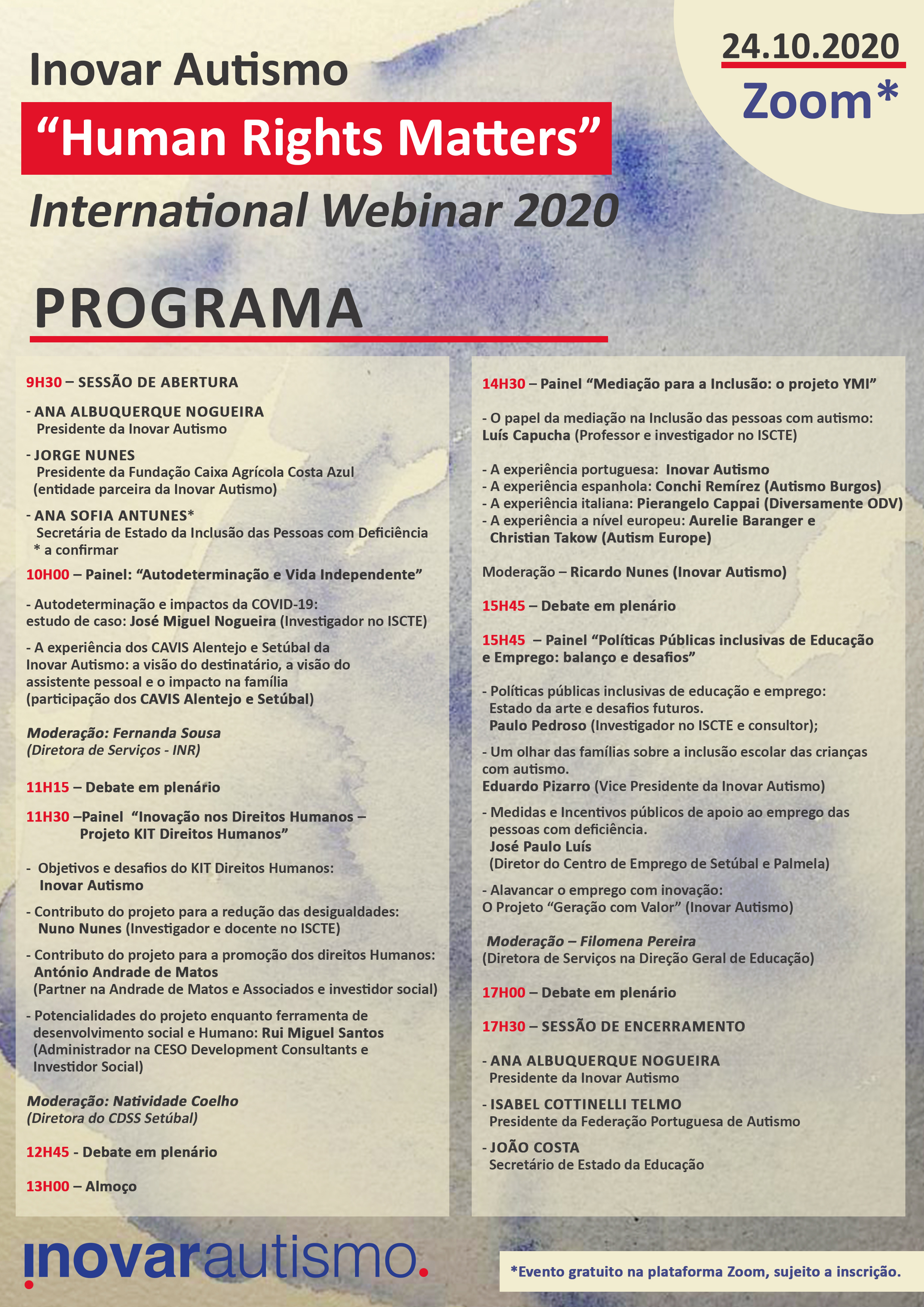 On October 24, the Inovar Autismo Association will host the International Webinar "Human Rights Matters" which will promote, via Zoom, the debate around 4 thematic panels:
10H00 - PANEL 1: "Self-determination and Independent Life";
11H30 - PANEL 2: "Innovation in Human Rights - Human Rights Kit Project";
14H30 - PANEL 3: "Mediation for Inclusion: the YMI project";
15H45 - PANEL 4: "Inclusive Public Policies for Education and Employment: balance and challenges".
Within the scope of the second panel and the Human Rights Kit Project, Rui Santos, CESO's CEO and Social Investor, will participate in the event looking at the "potential of the project as a tool for social and human development".

The Human Rights Kit Project aims, namely:
Raising the awareness of children / young people, as well as their families and the educational community in general, to the inclusion and human rights of people with disabilities, with a special focus on intellectual / autism;
The awareness and training of young people with disabilities with a view to their self-determination;
Promoting change in social behavior and attitudes and the participation of new generations in this process, including young people with disabilities.
Direct beneficiaries will be children and young people living in the district of Setúbal, between 6 and 18 years old, with and without disabilities, attending 8 public schools of 4 school groups in Palmela, Setúbal, Almada and Barreiro municipalities and, also, young people of 7 non-formal education groups (Scout Groups of the Portuguese Association of Scouts), in Palmela, Setúbal, Almada and Barreiro.

To attend the Webinar, which is free, the respective registration must be made in advance,.

Please see the event Programme (portuguese version) for more detailed information.

Promoted by the Citizenship and Inclusion Association Inovar Autismo, the Human Rights Kit Project is funded by Portugal Inovação Social, through European Union Funds, European Social Fund and the Portugal 2020 Program, with CESO's support as Social Investor.

October 2020

Back